Project Start: Students Consulting adidas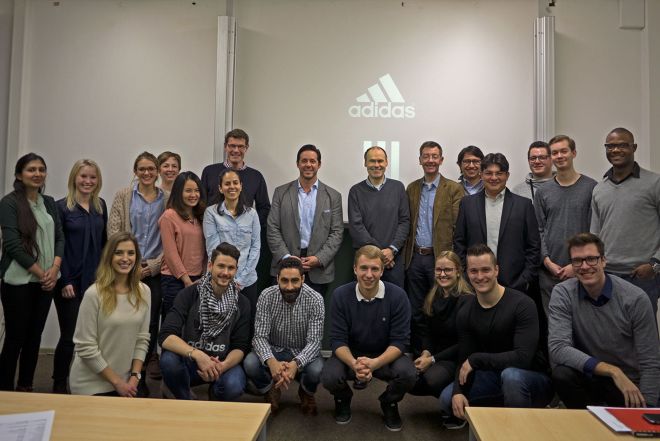 This Wednesday, a research project with adidas initiated by Prof. Dr. Fifka started with an excellent evening thanks to our overly committed and enthusiastic Bachelor and Master students. In the following weeks, the participating students will continue to consult the adidas Group regarding the analysis, conceptualization, and implementation of a values based management. One of the interesting questions the students will deal with concerns the alignment and coherence of core values across the individual brands of the adidas Group: adidas, Reebok, CCM, and TaylorMade.
The three adidas representatives Frank Henke (Chief Sustainability Officer), Sven Pastowski (Chief of University Cooperations), and Ulrich Krebs (adidas Project Manager Ethics and Integrity) accompanied our first meeting. On behalf of all attending parties, we are confident to say that the students contributed to an insightful and inspiring evening based on the in- depth analysis and profound work they provided, and the culturally diverse perspectives and critical minds they bring in.
We are very keen and excited about the upcoming meetings with Frank Dassler (Chief Compliance Officer), Karen Parkin (Executive Board Member and Head of Human Resources), and Kasper Rorsted (CEO) at the adidas headquarters in "Herzo" and will definitely keep you updated.